https://speedforce.org/2020/06/flash-annual-3-preview/
https://speedforce.org/?p=54279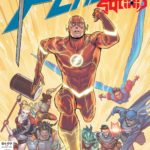 DC has posted five preview pages for next week's Flash annual, and you can see them at Adventures In Poor Taste. Captain Boomerang makes a rare Flash appearance in the preview; in the most recent issue of Suicide Squad, he was forced into a quick alliance with the Squad when a particular malefactor (it's a spoiler) tried to have the team execute him. They're now on the run.
THE FLASH ANNUAL #3
written by JOSHUA WILLIAMSON
art by BRANDON PETERSON
cover by DAVID MARQUEZ
From the pages of Suicide Squad, Task Force X and Captain Boomerang are on the loose, and the Flash is in hot pursuit! But is he really the hunter—or the hunted? Barry Allen may be the Scarlet Speedster, but at the end of this crossover issue, will he still be the Fastest Man Alive?
ON SALE 04.29.20
$4.99 US | 48 PAGES
FC | DC
-- Lia. The post Flash Annual #3 Preview appeared first on Speed Force.