https://speedforce.org/2018/09/dcs-december-2018-solicitations/
https://speedforce.org/?p=49947
DC has released the full complement of solicitations for December 2018, and here you can see all the ones relating to the Flash. The solicits are oddly sparse that month, with only one issue of The Flash solo series listed, and neither Barry nor Wallace are mentioned in their respective team books (the Justice League listings are included here anyway). But there are some interesting trade paperbacks that month to round things out.
You can see the solicitations in their entirety at CBR.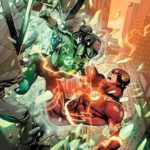 THE FLASH #60
written by JOSHUA WILLIAMSON
art by RAFA SANDOVAL and JORDI TARRAGONA
cover by RAFA SANDOVAL and JORDI TARRAGONA
variant cover by HOWARD PORTER
Barry puts his fleet feet in his mouth against the next Force wielder he meets! Introducing the new Strength Force user, Powerhouse: she's a young rebel using her powers to fight the corrupt police state in Corto Maltese. When Barry learns that she wants to use her super-strength to overthrow the government, he tries to intervene—and ends up tripping into a melee with the new hero instead.
ON SALE 12.12.18
$3.99 US | 32 PAGES
FC | RATED T
This issue will ship with two covers.
Please see the order form for details.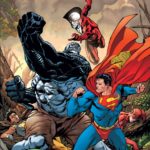 DAMAGE #12
art by AARON LOPRESTI and MATT RYAN
written by ROBERT VENDITTI
cover by AARON LOPRESTI
Will Damage earn his spot as the world's strongest hero—or will he be branded a villain forever? It's Damage versus the Justice League, and it'll take more than brute strength to win the day. Even with an unstoppable alter ego, Ethan's gotta use both brains and brawn to have a hope against the League, because they've got a knock-'em-dead trick up their sleeve as a nuclear option. The first year of Damage's story comes to an end—and a new chapter begins! And how does Deadman fit into the picture?
ON SALE 12.19.18
$2.99 US | 32 PAGES
FC | RATED T
JUSTICE LEAGUE #13
written by JAMES TYNION IV
art by GUILLEM MARCH
cover by GUILLEM MARCH
variant cover by JAE LEE
It's on—the Totality will totally total the Multiverse! What could possibly go wrong when the Legion of Doom gets their hands on it? Plus, what is the connection between JUSTICE LEAGUE and the new BATMAN WHO LAUGHS miniseries from Scott Snyder and Jock?
ON SALE 12.05.18
Each $3.99 US | 32 PAGES
FC | RATED T+
This issue will ship with two covers.
Please see the order form for details.
JUSTICE LEAGUE #14
written by SCOTT SNYDER and JAMES TYNION IV
art by STEPHEN SEGOVIA, JIM CHEUNG and MARK MORALES
cover by JIM CHEUNG
variant cover by JAE LEE
Let's take a trip to "Hawkworld" in part one of a new Totality-related storyline! Martian Manhunter, John Stewart and Hawkgirl avoided "Drowned Earth" with a detour to Thanagar-Prime: J'onn looks to tap into the ancient Martian mental database, GL struggles while practicing his new UV powers, and Kendra searches for answers about her connection to the Totality.
ON SALE 12.19.18
$3.99 US | 32 PAGES
FC | RATED T+
This issue will ship with two covers.
Please see the order form for details.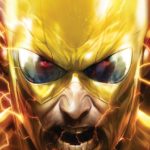 FLASH ROGUES: REVERSE-FLASH TP
written by JOHN BROOME, FRANCIS MANAPUL, BRIAN BUCCELLATO, TOM KING, JOSHUA WILLIAMSON and others
art by CARMINE INFANTINO, FRANCIS MANAPUL, JASON FABOK, CARMINE DI GIANDOMENICO and others
cover by FRANCESO MATTINA
Jump on the Cosmic Treadmill and discover the untold origin of the Reverse-Flash! Who is he, and what is his relationship to Barry Allen? Collects The Flash #139, 197 and 283, The Flash #8 (2012), The Flash: Reverse Flash #23.2, Batman #21 and The Flash #25.
ON SALE 01.16.19
$16.99 US | 168 PAGES
FC | ISBN: 978-1-4012-8925-6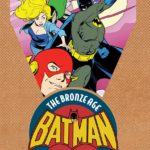 BATMAN IN THE BRAVE AND THE BOLD: THE BRONZE AGE VOL. 2 TP
written by BOB HANEY
art by JIM APARO, NICK CARDY, NEAL ADAMS and others
cover by KARL KERSCHL
Throughout the 1970s Batman fought evil side by side with DC's greatest—and occasionally, strangest—superheroes, including these tales guest-starring such legendary heroes as the Teen Titans, the Flash, the Metal Men, Wonder Woman, Green Arrow, Black Canary and others. Collects THE BRAVE AND THE BOLD #92-109
ON SALE 01.23.19
$34.99 US | 440 PAGES
FC | ISBN: 978-1-4012-8582-1
JUSTICE LEAGUE OF AMERICA: THE BRONZE AGE OMNIBUS VOL. 3 HC
written by GERRY CONWAY and others
art by DICK DILLIN and others
cover by KARL KERSCHL
In these tales from the 1970s, the Justice League started expanding its lineup to include even more characters, such as the Elongated Man and the Red Tornado! Throw in team-ups with the classic Justice Society of America and the returned Seven Soldiers of Victory, and it's easy to see why these stories became fan-favorite epics. Collects Justice League of America #147-181.
ON SALE 05.22.19
$125.00 US | 880 PAGES
FC | ISBN: 978-1-4012-8948-5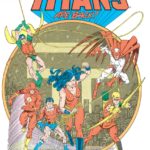 THE NEW TEEN TITANS OMNIBUS VOL. 4 HC
written by MARV WOLFMAN
art and cover by JOSE LUIS GARCIA-LOPEZ, STAN WOCH, EDUARDO BARRETO and others
cover by GEORGE PEREZ
In this fourth massive collection of the hit 1980s series, team member Lilith ascends to godhood and takes up residence on Olympus, home of the Greek gods of myth. And as the Crisis on Infinite Earths begins, Starfire is called home to the planet Tamaran to be wed to a member of the military. Collects NEW TEEN TITANS Series Two #10-31, NEW TEEN TITANS Series Two ANNUAL #1-2 and a story from OMEGA MEN #34.
ON SALE 05.01.19
$99.99 US | 800 PAGES
FC | ISBN: 978-1-4012-8930-0
GREEN LANTERN: KYLE RAYNER VOL. 3 TP
written by RON MARZ
art by PAUL PELLETIER, DARRYL BANKS and others
cover by PAUL PELLETIER and ROMEO TANGHAL
In these 1990s tales, Kyle Rayner teams up with the Flash, Wally West, to battle a new version of classic Green Lantern villain Sonar. Then John Stewart stops in for a visit, and Kyle sets out on a journey to learn from the legends of the DC Universe how to be a better hero. First stop…Gotham City. Collects Green Lantern #66-75 and Green Lantern Annual #4.
ON SALE 01.09.19
$24.99 US | 296 PAGES
FC | ISBN: 978-1-4012-8571-5
DARK NIGHTS: METAL TP
INCLUDES TWO ISSUES NOT IN THE DELUXE EDITION HARDCOVER!
written by SCOTT SNYDER, JAMES TYNION IV, JOSHUA WILLIAMSON and GRANT MORRISON
art by GREG CAPULLO, DOUG MAHNKE, YANICK PAQUETTE, JORGE JIMENEZ, HOWARD PORTER and others
cover by GREG CAPULLO
The Dark Knight has uncovered one of the lost mysteries of the universe…one that could destroy the very fabric of the DCU! The dark corners of reality that have never been seen till now! The Dark Multiverse is revealed in all its devastating danger—and the threats it contains are coming for the DC Universe! Collects the best-selling DARK NIGHTS: METAL #1-6, plus BATMAN: LOST #1 and DARK KNIGHTS RISING: THE WILD HUNT #1, which were not included in the Deluxe Edition hardcover!
ON SALE 01.23.19
$19.99 US | 280 PAGES
FC | ISBN: 978-1-4012-8858-7
-- Lia. The post DC's December 2018 Solicitations appeared first on Speed Force.